A Bed is The Ultimate Piece of Comfort to Keep You Relaxed After A Hard Day.
If your home is your safe haven, the piece of furniture that offers the most extreme comfort and safety is your bed. You can relax, recharge, and momentarily forget your problems here. That explains why a bed is among the furniture elements that is most essential. Your quality and quantity of sleep are also significantly influenced by the layout and construction of your double beds.
We offer a variety of beds at Urbanwood, the top furniture shopping website. From the available categories, you can browse the exclusive Double Bed Design latest 2023 collection. The best option for you is the bed that combines the best usefulness and style. UrbanWood is the greatest place to buy beds for bedrooms online.

Here we will be highlighting a few of our bestsellers to make your search more refined.
Stay Tuned For More Details ( Double Bed Design Latest 2023 )
Hover Bed
Double beds are for couples or individuals who share a bed. Additionally, you may not have the storage space, or at times, you may be short on space due to the small size of your rooms. But don't you worry; we have got you covered.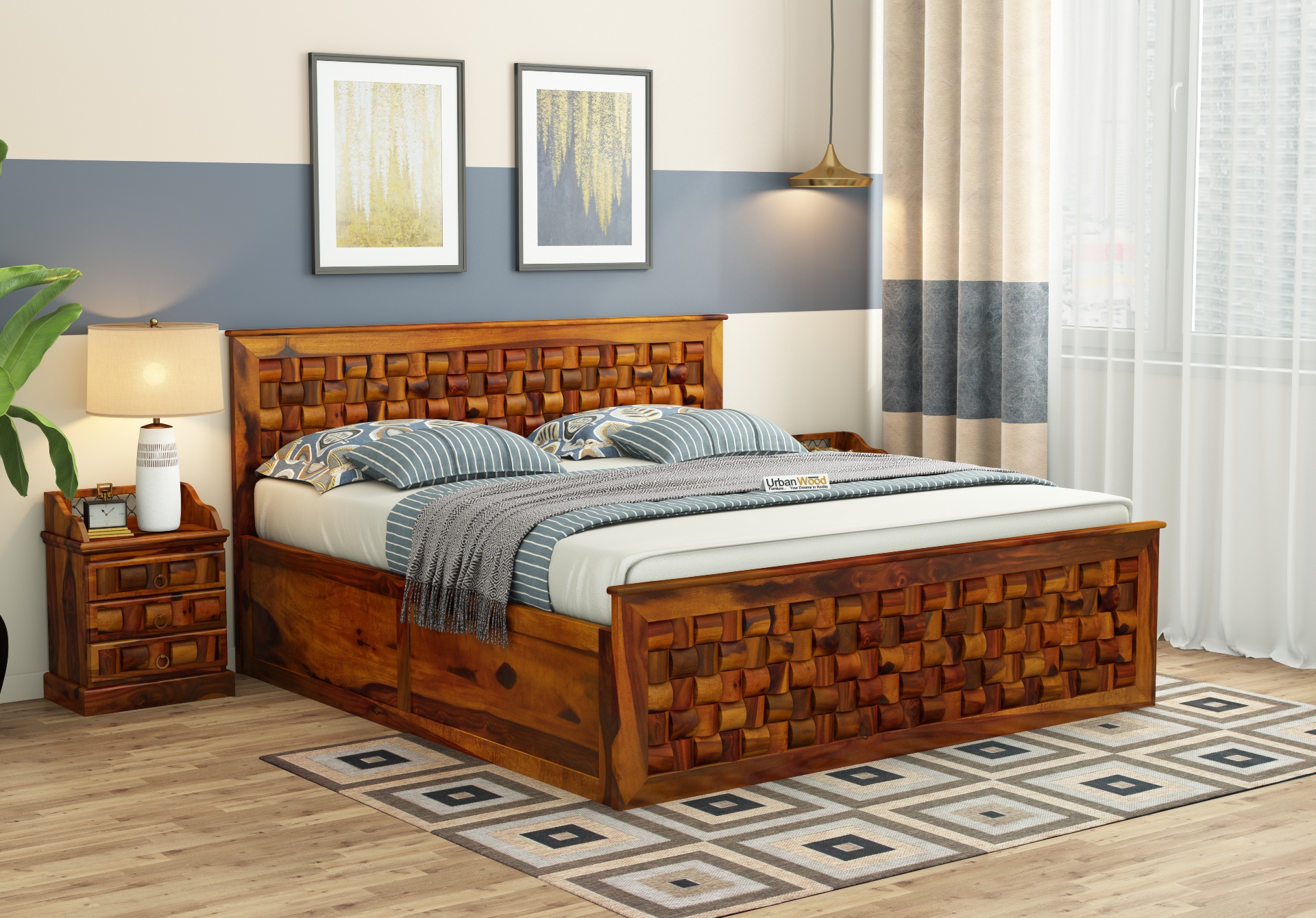 Here at UrbanWood, we offer a variety of double beds. These are made from Sheesham wood and are incredibly robust. They are worth the money because of the utilitarian design of the double bed and their innovation. These come in various sizes and finishes (honey, teak, and walnut). The Hover bed with hydraulic storage bed is available in king size beds and queen size beds with different variants as per the requirement. You can choose hydraulic storage, no storage bed, drawer storage, and box storage as per your convenience and preference.
Berlin Bed-Best Double Bed Design to Steal The Show
Berlin's wooden bed is composed of Sheesham wood, which ensures great quality for a very long time. You will select the best choice after considering the three options further. The bed and, consequently, the room appear fantastic thanks to the pattern model on top and explicit completeness. This style complements any type of decor or furniture in a room. The bed also gives a room a cleaner, more serene appearance by clearing away clutter.
These beds are appealing due to their modern designs and beautiful craftsmanship. These come in a variety of finishes, including honey, teak, and walnut. Additionally, you have the option of either no storage or access to drawer or beds with storage.
A Bestseller of All Times - The Jerry Wooden Bed
Many consumers find that wooden king-size beds' regular and natural appearance gives their bedroom retreat a welcoming appearance. In addition to fine woods like Sheesham, mahogany, oak, and maple, pine has established itself as a popular option among modern designers because of its supportability, delicate surface, and elegant appeal. While demonstrating the benefits of more expensive timber, such as its resistance to twisting, expanding, and contracting, pine bed designs are also more useful. Whatever the taste claims that appeal to you, UrbanWood has a tone of stylish choices. Jerry's wooden bed is one of them. To make your bedroom look amazing. Go for it to revamp your aesthetics.
Babson Bed With Storage ( King Size, Honey Finish )

The major piece of furniture you'll probably purchase for your bedroom is a wooden bed. It not only provides support for your bedding to ensure a restful sleep, but it also adds an elegant touch to your bedroom's decor. Wooden beds are a well-known choice for changing the mood of your bedroom while providing a comfortable place to sleep. Wooden beds are available in a variety of colors online, depending on the type of wood used. Regular wooden bed borders can be made from Sheesham Wood furniture, oak, mahogany, maple, pine, and cherry, and they transmit a variety of aesthetic benefits. You may find many different types, sizes, and styles of wooden bed designs at UrbanWood to fit any taste. Hugo's exclusive bed is one of the classiest wooden beds in the whole segment. We have everything you could possibly want in king and queen sizes.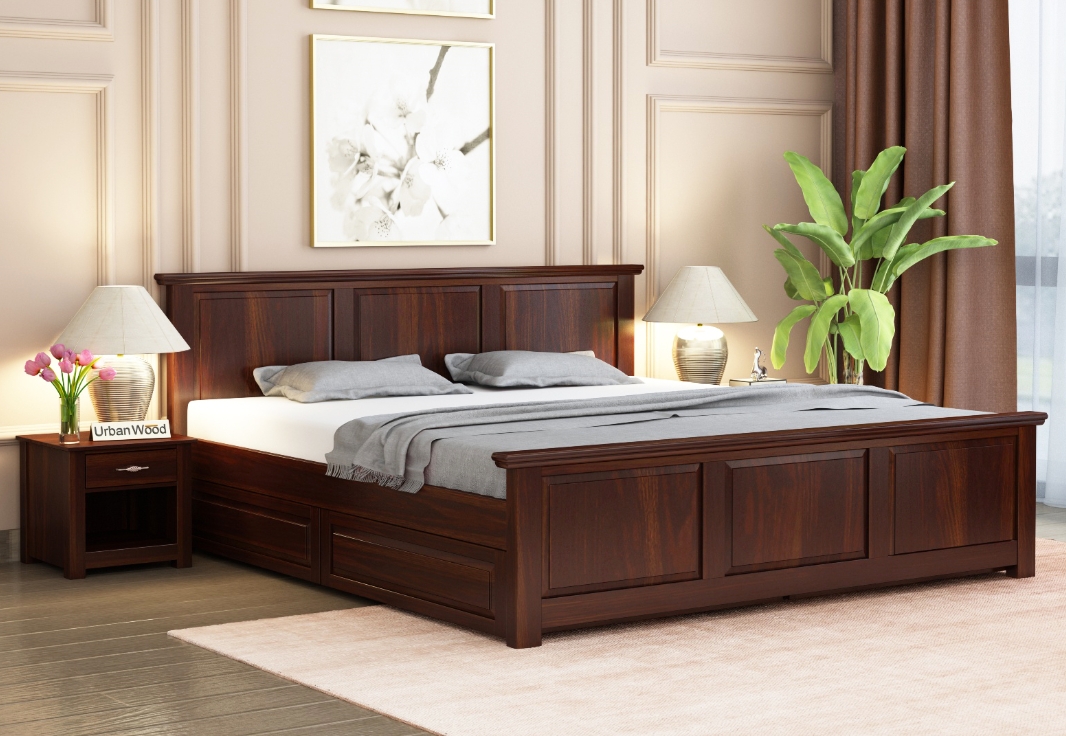 The Relay Bed is The Perfect Way to Relax
Relay hydraulic beds are constructed of high-quality, seasoned Sheesham wood. They are strong, robust, and have the highest weight capability. It is a beautiful addition that enhances the elegance and attractiveness of your bedroom thanks to its royal honey finish and simple design. This hydraulic double bed has been treated using cutting-edge methods and materials, making it termite- and pest-resistant. We have king-size and queen-size beds with this lovely ceramic engraving to complement their beauty.
Apart from these options, you can keep scrolling for more virtues. We can meet any need, and you can even have your customized furniture to your specifications.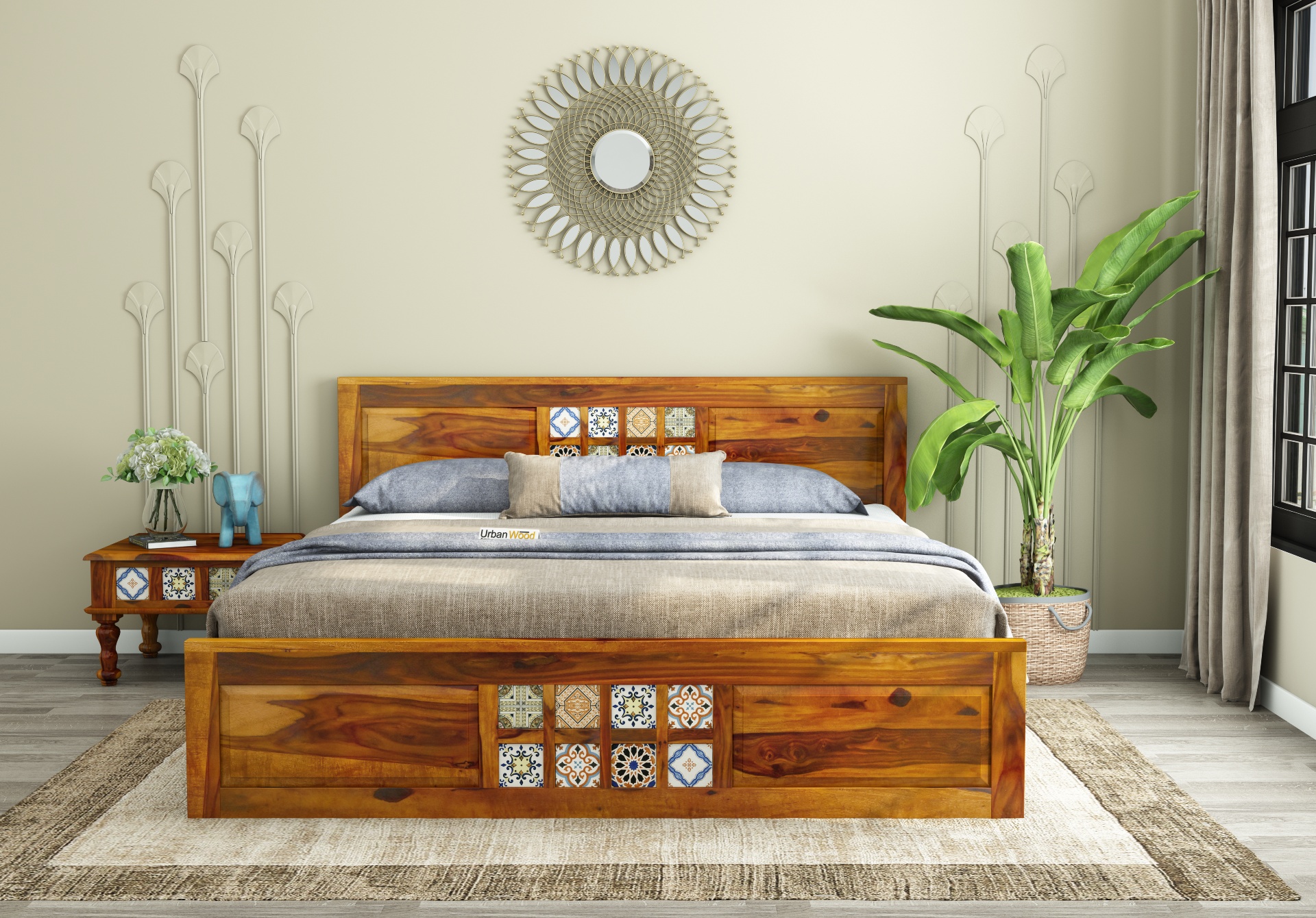 QUESTIONS? LOOK HERE!

What materials make up a king-sized bed?
Solid wood, engineered wood, iron, steel, and other metals are used to make king-size beds.
Which is your bestseller bed?
Hover bed and berlin bed are our bestsellers of the segment to add value to your money.
What are a king size bed's measurements?
The largest conventional bed size is a king size bed, which measures around 76 inches wide by 80 inches long and is one full size larger than a queen-size bed. King-size beds, on the other hand, are the best option for couples who want to optimize each person's sleeping area.

#

You May Like These